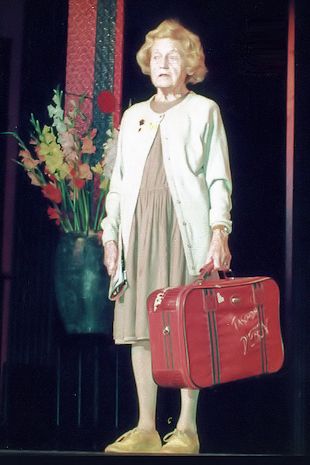 MADGE ALLSOP
Madge Allsop (nee Marjorie Kiri McWhirter) was the former bridesmaid and long-time companion of Barry Humphries' character Dame Edna. The fictitious Madge was born in Palmerston North and met a young Dame Edna upon moving to Melbourne, Australia at the age of 10 to attend Moonee Ponds Girls' Grammar School. After Madge lost her husband to a fall in a Rotorua mudpool on her honeymoon, she became Dame Edna's constant companion.

Madge on Dame Edna's Neighbourhood Watch.

Madge's Palmerston North roots were remembered in many performances and interviews with Dame Edna. Madge appeared in The Dame Edna Experience, One more Audience with Dame Edna Everage, A Night on Mount Edna, Dame Edna's Neighbourhood Watch, Dame Edna's Hollywood and Dame Edna's Work Experience.
Madge's final on-screen appearance (in bed with Ozzy Osbourne) was in 2003 in the television special Dame Edna lives at the Palace. The character of Madge died later that year.
"Dame Edna is campaigning to have a statue of Madge erected in Palmerston North," Barry Humphries, 2012.

Image ©Harald Haefker