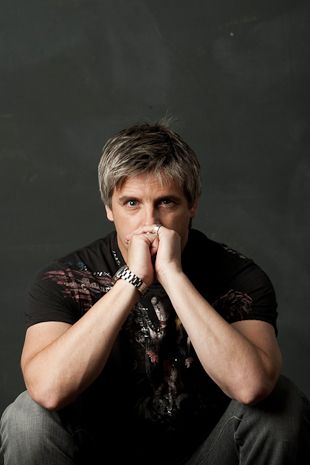 "It was the lure of a beautiful girl that got me involved in the Local Drama scene, how else was I going to spend time with her? That didn't pan out so well but the acting career has done ok!! I have seen the world, played some fantastic roles and have a bucket load of friends I call special, all because once upon a time I took the risk and stepped out onto the stage in Palmy, centre for Artistic excellence in New Zealand (In my Opinion,!!)"
SHANE CORTESE
In 2003, actor Shane Cortese left a successful stage career in London's West End and returned home to become the evil Dominic Thompson on the popular New Zealand television series Shortland Street. The character of Dominic, which Shane played for two years before being killed off, was created just for him.

ScreenTalk Interview with Shane Cortese.

Considered one of the most recognisable actors in New Zealand, Shane has starred in some of New Zealand's most popular dramas including Outrageous Fortune, Nothing Trivial, The Almighty Johnsons, Burying Brian, Legend Of The Seeker, Brown Brothuz and Maddigan's Quest . He hosted So You Think You Can Dance? and came runner-up in the inaugural series of Dancing With The Stars.

Shane is the narrator of the television series Serious Crash Unit, SPCA Rescue and Cause of Death Unknown. Since returning to New Zealand, he has performed in musical theatre including productions of Cats, the Rocky Horror Show and Rock n' Roll Heaven as well asJjames Griffins two hander Then Comes Love alongside English Actress Zoe Lucker from Footballers Wives.

Born in Wellington, Shane moved with his family to Palmerston North in 1986 where he attended Palmerston North Boys High. While working in the city a travel agent, Shane became involved in the local amateur drama society and performed at The Globe , The Abbey, The Opera House and The Regent on Broadway. He moved to London in 1993 to follow his passion for acting. While in the UK, Shane starred in stage musicals in London's West End at the Duke Of Yorks Theatre and Victoria Palace and throughout the UK.

As a musician, Shane supported musical legend Gerry and the Pacemakers on its New Zealand tour and has also appeared alongside Johnny Devlin. He fronts his own rock 'n' roll band The Class of '58 which has performed all over New Zealand. A portion of the sales from the bands' debut album was donated to the Starship Foundation.

Based in Auckland, Shane is an official ambassador for Variety New Zealand , The Breast Cancer Research Trust and The Children's Autistic Foundation . He is a strong supporter of the Starship Foundation and a patron for Auckland City Theatre Academy (ACTA), a musical theatre training company for youth aged 5–18.
"What makes a place special? Easy, the people. Palmerston North plays home to my two best mates. We catch up more than middle-aged blokes should and drink a lot of good wine from the hill overlooking this fine city. It is also home to a very special lady I my life, my beautiful daughter."