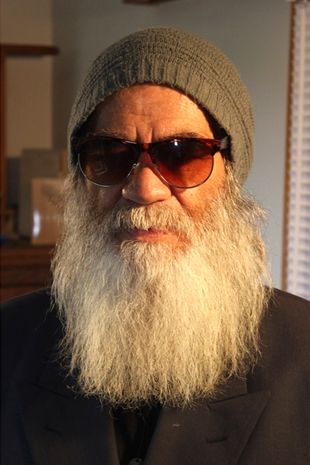 "What inspires me as a musician and artist? There is of course the creative music side, working on original compositions and with other great musicians. But also the touring aspect, meeting new people, travelling and seeing new places and of course being on stage with international artists who are recognised worldwide."
BILLY TK SENIOR
Technically gifted, the intense style of guitarist Billy TK Senior (Billy Te Kahika) has been described as a blend of contemporary blues-rock and flowing progressive Pacific rhythms.

Billy began experimenting with feedback and developing his own electronic pedals in 1966 with his Palmerston North-based band The Sinners. As soon as the music of Jimi Hendrix hit the airwaves he learned every track he could. In the late 1960s, he joined fellow Palmerston North musician, singer, stand-up drummer and Creative Giant Maurice Greer in Human Instinct. Billy stayed with Human Instinct through their 1972 tour of Australia when he began recruiting for his own band, Powerhouse, which supported major acts including UB40, Joe Satriani and the Neville Brothers.

Billy TK - a career overview

Powerhouse returned to Palmerston North when Billy and promoter Murray Taylor started the nightclub Boulevarde. Powerhouse played contemporary South Pacific rhythms influenced by Santana; in 1996 Billy performed a 'walk-on' with his hero Carlos Santana at an Auckland concert.

Billy TK has worked and recorded with several bands including Dunedin-based Flying Nun band King Loser, and with hip hop band DLT. His interest in indigenous Maori music continues to grow and he hopes to record some of the pieces he's written and arranged in a 'best of' compilation.

Billy TK is actively involved in his role of Maori Peace Ambassador and performs domestically and abroad as part of a peace movement. He spends six months each year touring Europe, performing at international festivals including the Lothlorien Peace Festival in Foulain.
"Being bought up in Palmy and going to Queen Elizabeth College introduced me to all sorts of music. At the youth clubs, country halls, school dances, I learned to play country and western, waltzes, fox trots and rock and roll. I really appreciate the diversity that I had coming out of Palmy."