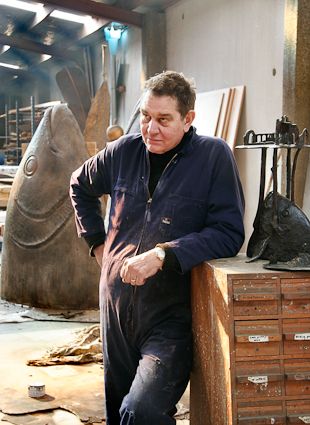 "My work is grounded in figuration, beginning with recognisable subjects and shapes, which I then abstract to a point where the form takes precedence. The play between positive and negative space is also important in my work."
PAUL DIBBLE
Recipient of a New Zealand Order of Merit, an Honorary Doctorate from Massey University and an Honorary Fellow of the Universal College of Learning, Paul Dibble is one of New Zealand's leading sculptors.
Paul's work is inspired by New Zealand's location within the South Pacific, the meeting of European art history and Pacific art forms and the legacies of our colonial history. Over the past decade, native birds have frequently appeared in Paul's work with the huia, in particular, featuring prominently.
Growing up on a farm in rural Waitakaruru, Paul constructed things with his hands and started casting bronze works while at Elam School of Fine Arts in the 1960's. The primary media of cast bronze remains with recent large works also incorporating Corten steel. His works range from small scale pieces to monumental outdoor sculptural works, including New Zealand's Southern Stand installation at London's Hyde Park. His work has been exhibited throughout New Zealand and internationally and is included in private collections worldwide.
Two books have been published covering the work of Paul. Paul Dibble (2006) explores the early days of his work and Paul Dibble: The Large Works (2012) focuses on Paul's large-scale works. The latter was written by his wife, artistic partner and Creative Giant Fran Dibble.
Paul arrived in Palmerston North in 1976 as a lecturer in painting and sculpture at the then Palmerston North Training College. He became a full time artist in 1988.

"Palmerston North is a city that values education, which has always been important to me. It's also easy to travel between home and work – after a hard day at the foundry, within minutes you can be home soaking in a hot bath."