| | |
| --- | --- |
| JOHN COLEY | "These "mood" paintings do not represent any specific place or view – they are entirely invented. They reflect a certain visual experience of urban life." |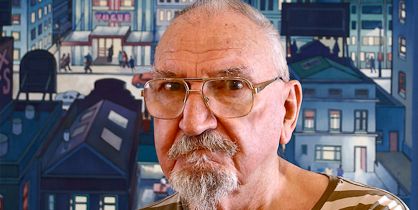 Born in Palmerston North in 1935, John Coley attended Palmerston North Boys' High School and evening art classes at the Technical School where he was taught by Alan Leary (who also taught fellow giant Pat Hanly). After a period as a cadet reporter on the Manawatu Evening Standard, in 1955 he entered the Canterbury University School of Fine Arts.

He taught at Papanui High School before joining the art department of the Christchurch Teachers' College. John was appointed director of the Robert McDougall Art Gallery in 1980, retiring in 1996 to become a full time painter. He has maintained activity as a painter from graduation, exhibiting with the Christchurch Group and founding the 20/20 Vision group of artists as well as holding numerous one-man shows. His works are included in numerous public and private art collections within New Zealand and abroad. He has been a columnist for the Christchurch Star, The Listener and The Press and has written biographies of the artist Jane Evans and Christchurch builder Charles Luney.

John Coley was a strong advocate for the new Christchurch art gallery throughout his time as director and was responsible for the establishment of the McDougal Art Annex contemporary art space. For many years he was closely associated with the Canterbury Society of Arts.

In 1988 he was appointed MBE for his contribution to the visual arts. With his wife Fay and sketching and travelling companion architect Sir Miles Warren, he has made expeditions to many countries exhibiting the watercolours made on these journeys. John and Fay moved to Auckland to be near family in 2007 where he has recently exhibited.

Listen to this 2012 interview with John on RNZ National's Arts on Sunday:

"I have retained a small number of works from my 'Nightlights' exhibition, held in Christchurch in 2007. Due to deterioration of my eyesight, these were the last oil paintings I have made.
The Nightlights theme relates to my childhood and youth in Palmerston North. Anyone who is familiar with the Turner's Flats building (now part of the college administration centre) at the north end of King Street, the Melody Lane, the Regent Theatre and the pre-1950 architecture of the CBD will see visual echoes of the town in these images. My 'bedroom' for a decade or so was the lower left hand balcony of Turner's Flats from where I had an elevated view of the street. I spent many hours observing the comings and goings on the street and became particularly interested in the forms and lights of the town at night. Later the urban 'townscape' became a principle theme in my work. I habitually elevated my viewpoint when composing images, only realising much later that this was undoubtedly due to the higher vantage point from which I had looked out at my surroundings for many of my younger years.
I believe that my generation in New Zealand was one in which it was possible to live in an urban environment without any relationship with rural life or landscape. In the earlier part of the 20th century, despite the growth of major centres, it seems to me that there were always members of any family who worked the land or owned rural properties. That was true of my paternal relatives but my father's death in my childhood separated me from this contact and my upbringing took place entirely within the central area of Palmerston North. When I later looked for themes for my painting, it was this experience I drew upon – commercial buildings, figures coming and going, streets lit by electric lamps, glowing movie theatre entrances.