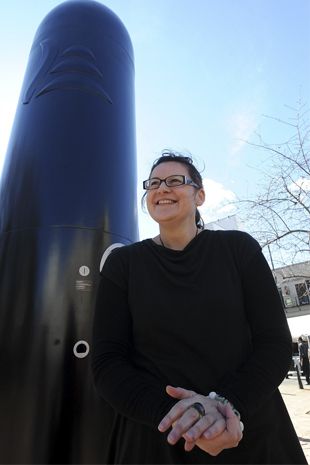 "Toi is the Maori word for art and the literal translation of rorohiko, the Maori word for computer, is 'electric brain'. Rorohiko is morphed into Rerehiko and Toi Rerehiko is a moving image art form immersed in Maori tradition, tikanga (custom) and values which uses digital and electronic media."
RACHAEL RAKENA
Digital video artist Rachael Rakena has exhibited in New Zealand, Australia, China, Italy, Germany, Poland, Lithuania, France, Spain, Britain and the United States. Among other large group exhibits, her work has been included in Pasifika Styles at Cambridge University and in Dateline: Contemporary Art from the Pacific at Neuer Berliner Kunstverein, Berlin.

Rachel Rakena's Haka Peepshow installation, The Octagon, Dunedin 2011.

In 2006, Rachael and artist Brett Graham represented New Zealand at the Sydney Biennale with their collaborative work UFOB. In 2007, their work Aniwaniwa was selected for the Venice Biennale and, in 2008, her work Pacific Washup was included in the Busan Biennale. In 2009, Rachael's work was included in the Spanish exhibition FEEDFORWARD which explored how artists are using digital technologies to interpret the world.

Of Maori and Pakeha descent, her inspiration comes from family; she uses contemporary technology, new language and digital media to create artwork that expresses traditional Maori culture and identity. Few artists need to invent a word to describe their art form, but Rachael did: Toi Rerehiko.

Rachael is a lecturer at Massey University's School of Maori Visual Arts.