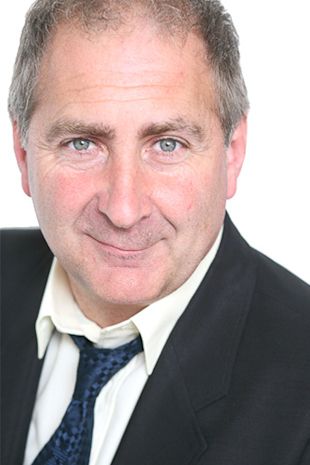 "Acting is an unusual profession because you can never be seen to be doing it. Unlike a doctor or a lawyer or a plumber where if you hire a plumber to fix your pipes you really hope you can see him being a plumber. The closest thing to an actor is a secret agent or in fact a thief who should never be seen. A good thief is so good you never realise anything has been stolen until you come to use it. The perfect thief replaces what they've stolen with an exact replica and you never know it's been stolen. Having said that the thief could have just kept the exact replica and not bothered with breaking the law. What a moron that thief turned out to be. I think there's a lesson in this for all of us. Crime doesn't pay. Keep off the drugs kids."
GREG JOHNSON
Born and raised in Palmerston North, actor Greg Johnson has appeared in some of the most identifiably New Zealand films including The Piano, The World's Fastest Indian and The Rainbow Warrior. His television work is also quintessentially New Zealand – among other series' he has featured in Shortland Street, Outrageous Fortune and Go Girls.


Screentalk interview with Greg Johnson.

Greg has enjoyed both critical and popular acclaim. At the 2011 Aotearoa Film and Television Awards he was awarded Best Supporting Actor in a Feature Film for his work in The Insatiable Moon, a film that won Best Foreign Film at the 2011 Moondance International Film Festival. In 1998, he won Best Supporting Actor for his role in City Life, Episode 14, and was nominated for Marlin Bay.
Greg began his performance career as a stand-up comedian and made his acting debut in the film The End of the Golden Weather in 1991; his further film credits include Yogi Bear, Tracker and Russian Snark.
In 2001, Greg took to live theatre in Take A Chance On Me. He has since performed in favourites including The Motor Camp, Calendar Girls, Up For Grabs, Middle Age Spread and The Viagra Monologues. He has returned to Palmerston North to perform at Centrepoint Theatre in The Motor Camp, Four Flat Whites in Italy, Penalties, Pints and Pirouettes and Flipside.
Between 2003 and 2005, Greg provided voice services for Power Rangers, not only the most watched children's television programme in the US but airing in more than 40 markets worldwide. Greg is the voice of Stench in Power Rangers: Space Patrol Delta, Ka Ching in Power Rangers: Dino Thunder and Mini Zord in Power Rangers: Ninja Storm. Greg is also the voice of Snuffles in Party Animals.

Back on board - Manawatu Standard
"Palmerston is my home town, I was born here, my parents died here, my sisters were married here, I lost my virginity here, I got my drivers license here, come to think of my sisters probably lost THEIR virginity here, god, why did I think of that? The point is that every street corner has a memory for me, and probably my sisters. Going into the Square reminds me of going "uptown" with my mother. Ongley Park Saturday morning rugby and in the summertime cricket; Lido, divebombing; Fitzroy Park, skateboarding; but most of all the river that I grew up next to, where we'd have dirt fights with long drawn out speeches before the battle commenced to crush and destroy the kids from Crewe Crescent, punks that they were. But the thing that I always miss when I'm away from Palmerston North is the enormous sky because when you look out to the west there's nothing to block your view, no pesky hills or mountains, or towering buildings, just a landscape that meets the horizon like an ocean of green…or off-green depending on the season. So I always return to my creative home of Centrepoint Theatre whenever I can to meet the poor souls that work in the steam engine of the Creative Giants of the Manawatu."