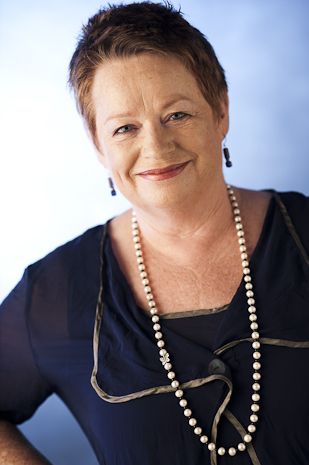 "You can only rehearse so much. After that, the audience comes in and the rest of the story can be told."
ALISON QUIGAN
While many New Zealanders will recognise Alison Quigan for her seven year role as Shortland Street receptionist Yvonne Jeffries, the actress made her mark on hometown Palmerston North as the Artistic Director of Centrepoint Theatre for the 18 years from 1986 to 2004. In this position, she acted in and directed more than 60 plays and also programmed one of the highest proportions of New Zealand plays of any professional New Zealand theatre. Dozens of New Zealand actors – including other Creative Giants – worked under her excellent tutelage.

Alison joined the Shortland Street cast in 2004, first in a guest appearance and then as a regular. She remained on the show until February 2011 and returned as part of Shortland Street's 20th anniversary in 2012.

Alison Quigan talks about her role in the stage show production of Calendar Girls.

Since leaving Shortland Street, Alison has returned to writing and acting for the stage. Among her many roles, she appeared in Auckland Theatre Company's 2012 production of A Shortcut to Happiness and in 2011, its production of Calendar Girls.
Alison trained at Auckland's Theatre Corporate Actors School in 1978. She has worked as an actor in Auckland, Palmerston North and Christchurch and has acted in or directed more than 130 plays. Alison has written 12 plays, independently and with writing partners Ross Gumbley and Lucy Schmidt.
Alison has two grown children and her daughter, actor Sarah Graham, made her Centrepoint Theatre debut in the 2009 production of Alison's play Ladies for Hire.
In 2001 Alison was awarded a Queen's Service Medal for her services to theatre.
"Palmerston North taught me how to dream and how to make my dreams real. It was while I was busy running the theatre, being an actor, a director and a manager as well as being a mum, a daughter and a sister I realised I was living the dream. Through the plays I produced I could make a difference to the community I was living in. I didn't need to race off to the world and tell stories, the world was right in front of me and the stories I wanted to tell were all around me. Palmerston North is full of treasures, some hidden, and some for all to see."