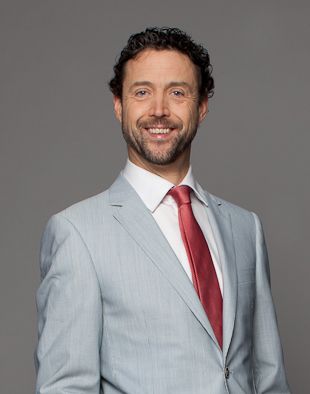 "I've made a career of saying 'yes' when asked to do new things in New Zealand media, and it has been a great deal of fun. I've been allowed to produce tv programmes, write books, be a breakfast radio host, a television presenter, a columnist, tv director, blogger, an MC and a comedian. With luck I'll get to do more."
JON BRIDGES
Born in the USA, comedian, producer, and columnist Jon Bridges moved to New Zealand at the age of 4 and by the age of 11 found himself in Palmerston North. He attended Intermediate Normal, Freyberg High School and Massey University, graduating with BA in English and Computer Science in 1990. He then went on to complete an MA in English.

Screentalk Interview with Jon Bridges.

Honing his comedic skills in Capping Revues at Massey University, he, along with fellow Palmerston North Creative Giants Jeremy Corbett and Paul Horan, belonged to the comedy group Facial DBX which toured the country and was instrumental in launching stand-up comedy in Auckland (and arguably, New Zealand).
Jon made his television debut in 1991 on sketch show Away Laughing and has recently appeared in 2012's Would I Lie to You? Jon was co-presenter on youth cult show Ice TV from 1995 to 2000 and wrote for the youth dramas Secret Agent Men and Amazing Extraordinary Friends. He admits to two unmemorable roles on Shortland Street.
Jon served four years as host of Channel Z Breakfast Radio. As a television producer he has, since 2009, been the producer of the TV3 comedy 7 Days (starring Jeremy Corbett). Jon was awarded Best Performance in an Entertainment or Comedy Programme at the 2000 NZ Television Awards for Ice TV. 7 Days won Best Comedy Programme or Series at the 2011 Aotearoa Film and Television Awards.
A columnist for New Zealand Listener from 2006 to 2011, Jon is an avid cyclist and author of three books, most recently Easy Rider: A Kiwi's Guide to Cycling.


"My brother, sister and I did not want to go to Palmerston North when we were brought there in 1979 but my Dad sold it to us by buying us a Lido card each. Nowhere could have better started my creative career – it's where I began writing, performing and producing (and swimming at the Lido)."