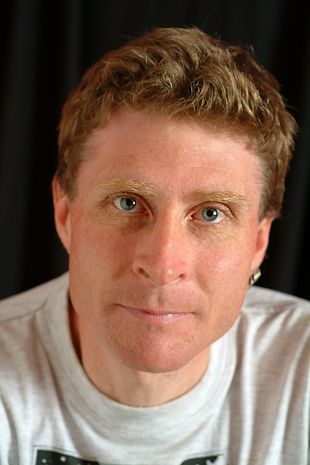 "For me poetry is a place of freedom. I get to write about what I like how I like. Most of the other writing I do, and indeed much of my life, has to conform to various agendas. But when I write poetry, I get to make (and break) the rules. Ha!"
JAMES BROWN
Of all Palmerston North's Creative Giants, poet and short fiction writer James Brown stands out for having written an ode to the city. His poem I Come from Palmerston North was first published in Victoria University's online journal Turbine in 2003 and appears in his book The Year of the Bicycle (Victoria University Press, 2006).
'Te Papa Bike Makeover', by James Brown.

A graduate of Bill Manhire's creative writing course at Victoria University, James has been a finalist in the Montana New Zealand Book Awards three times, including for his first book of poems, Go Round Power Please (VUP, 1995), which won the 1996 Jessie Mackay Best First Book of Poetry Award.

Novelist Elizabeth Knox called James' second collection Lemon (VUP, 1999) 'possibly the year's best New Zealand book'. It was followed by Favourite Monsters (VUP, 2002) and The Year of the Bicycle (VUP, 2006), which was a finalist in the 2007 Montana New Zealand Book Awards. His fifth collection, Warm Auditorium (VUP), appeared in 2012.

James' poetry has appeared in many anthologies, including the Best New Zealand Poems series. His poetry features in Against Gravity (2010), part of the Duet series of publications which pairs poets from New Zealand and the United States.

James' short fiction has been published in the New Zealand Listener, Sport and Landfall, and in the anthologies Zig Zag (Penguin, 1993), The Picnic Virgin (VUP, 1999) and Boys' Own Stories (Random House, 2001). His work has been broadcast on Radio New Zealand. Under the pseudonym Dr Ernest M Bluespire, he published the handy booklet Instructions for Poetry Readings (Braunias University Press) in 2005.

James is also a celebrated editor. In 2006, he and photographer Craig Potton were finalists in the Montana New Zealand Book Awards for The Nature of Things: Poems from the New Zealand Landscape (Craig Potton Publishing, 2005), which paired poems selected by James with photographs by Craig. He served as an editor of the literary magazine Sport from 1993 to 2000, and was the 2008 editor of the online anthology Best New Zealand Poems.

James was a recipient of the Buddle Findlay Sargeson Writers Fellowship in 2000 and was the Canterbury University Writer in Residence in 2001. In 2002, he was shortlisted for the inaugural Glenn Schaeffer Prize in Modern Letters and was the Victoria University Writer in Residence in 2004.

James is part of the Writing Team at the Museum of New Zealand Te Papa Tongarewa, and teaches the Poetry Workshop at Victoria University's International Institute of Modern Letters.
I Come from Palmerston North

The fact of the matter is
I was born at Palmerston North Public Hospital
at 12.40 a.m. on the first of April, 1966.

My father, Timothy John Brown, tried to get the date
put back to March 31st
in order to claim a full year's tax rebate
from the government.

The following year the Beatles released Sgt. Pepper's
and the Velvet Underground released The Velvet Underground & Nico.
My initials—JSB—are the same as Johann Sebastian Bach's.

My father and mother are not originally from Palmerston North.
They immigrated there from across the world and never left,
even though they managed to leave each other.

The Palmerston North Boys' High School yearbook is called
The Palmerstonian. But I do not think of myself as a Palmerstonian.
People from Gore do not think of themselves as Gorons.
I come from Palmerston North.

While still attending PNBHS, schoolboy Craig Wickes played 14 minutes
for the All Blacks against Fiji in 1980. Imagine
the town's pride and anxiety as, ball in hand,
he ran at his opposite number and bounced
out of contention.

He once threw mud at my friend Robert Rieger.
Robert is the son of Paul Rieger—a long-time Mayor of Palmerston North.
Robert also went on to become very successful
—as a Catholic priest.

1994 was the year Palmerston North changed its subtitle from
Rose City to Knowledge City. I do not know if Mayor Rieger
was responsible for this or not.

Palmerston North sports a teachers college and a university, plus
the Universal College of Learning, the International Pacific College and
the Adidas Institute of Rugby.
Knowledge City probably wasn't any one person's idea.

Palmerston North is the spiritual home of stockcar racing in New Zealand.
The local team, the Palmerston North Panthers, have won 9 of the 21
titles since Team Champs were introduced in 1981.

Lots of famous people come from Palmerston North.
Alan Gregg, bass player with popular band the Mutton Birds,
was once asked if he had roots in jazz. He replied
that he had roots in Palmerston North.

I have often wanted to use that joke myself,
and last week I got the opportunity when someone asked me
where I thought I was coming from.

I come from Palmerston North. We are a modest people,
but we are fiercely proud of the bustling, go-ahead city
at the heart of the Manawatu Plains.

In sci-fi movies, people often go back in time in order to try to
change history. This is impossible. You cannot change the past.
And nobody from Palmerston North
would want to.