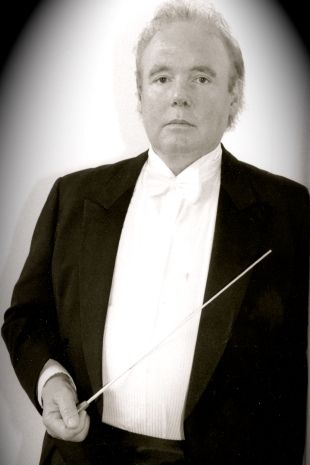 "Music does not require a translator. It speaks its own very strong language. I remember when I returned home to conduct the New Zealand National Youth Orchestra I had just come off a tour of 10 concerts and departed immediately for New Zealand and arrived exhausted before I had even begun rehearsals. But it was a concert I will cherish forever. So much of my formative teenage years were spent in the New Zealand National Youth Orchestra, I had never dreamed that I would one day conduct it myself. I was especially deeply moved by the audience's reaction at the conclusion of the concert in my home town Palmerston North. I tried to hide it, but when I turned to take my bow and saw the entire audience on its feet applauding, I did shed some tears."
GARY BRAIN
Recipient of an Officer of the British Empire (OBE) for his Services to Music, Gary Brain began playing the piano at age 4. A foundation member of the Manawatu Youth Orchestra, he later played the cello, horn, trumpet, timpani and percussion. A member of the New Zealand National Youth Orchestra in his teens, Gary returned to conduct it - its only member to have ever done so.

Growing up in Palmerston North, Gary paid for his weekend music lessons in Wellington by working at Woolworths and the Longburn freezing works. At age 18 he was awarded a scholarship to the Staatliche Hochschule für Musik in Berlin, Germany where he studied conducting, piano, cello, timpani, percussion and all general music subjects. Following his studies he played in the BBC Training Orchestra, the National Orchestra of Wales, the Ulster Orchestra and the Orchestra of the Royal Opera House Covent Garden prior to being offered the Principal Timpanist position in the New Zealand Symphony Orchestra (NZSO).

As Principal Timpanist/Percussionist with the NZSO for 25 years, Gary Brain was also a 'backing' percussionist for stars such as Elton John and David Bowie. He toured New Zealand schools, introducing about a million Kiwi kids to classical music using one tonne of percussion and electronic instruments, driving the equipment from North Cape to Bluff, chasing the NZSO (who flew on tour) and performing two school concerts per day and an NZSO concert each night.
Gary was offered a high level fellowship from the French Ambassador to New Zealand to retrain as a conductor following an airline accident in 1989. Overhead baggage fell and crushed his right wrist, ending his playing career. Based in Paris since 1990, he has conducted concerts with major European orchestras in London, Paris, Germany, Spain, Italy, Finland, Norway, Iceland, Sweden, Russia, Austria, Slovenia, Romania, Poland and the Czech Republic.
In 1997, he won the German Grammy-Echo award for conducting The Best Orchestral CD of the Year for his first recording with the Philharmonia Orchestra in London.
Commissioned to write a white paper on the plight of the Sarajevo orchestra following the war, Gary was sent to Bosnia. UNESCO hosted an 'awareness' concert at its World Headquarters in Paris for which Gary Bain conducted the orchestra of Milan. For his work in Sarajevo, Gary was made an "Artiste de la Paix" by UNESCO.

www.garybrain.com

Radio New Zealand's Peter Meechan interviews Gary Brain just after his 70th birthday:

"I am very grateful to the Manawatu Youth Orchestra for the experience I gained playing in it. I now conduct symphony orchestras and opera all over the world but I have never forgotten those wonderful 'free' years of growing up in Palmerston North. My mum put me to the piano when I was 4 and I evidently took to it like a duck to water. However a person entered my life who opened up my musical horizons more than anyone else. John Ward and I were born in Guy Avenue in Palmerston North. John was some 12 years older than I and he had developed (and constructed himelf) one of the largest and best Hi-Fi systems I had ever heard. He owned a massive record collection which he imported and he opened my ears to hundreds of hours of listening to Bach, Mozart, Beethoven, Elgar - all the classics which was just what a 13 year old such as myself needed."