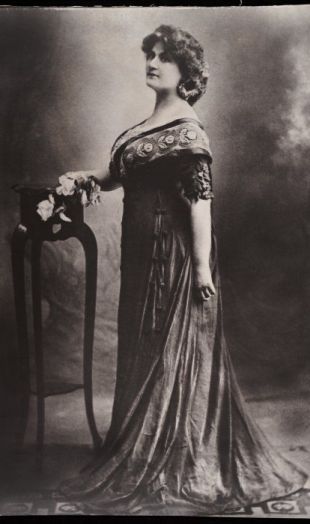 ROSINA BUCKMAN
Born in Blenheim, soprano Rosina Buckman was 17 when she moved with her family to Manawatu in 1898. Here she had her first formal voice training, studying with James Grace, then choirmaster of the Palmerston North Methodist church.

Rosina Buckman and husband Maurice d'Oisly sing
Far from the Busy Throng and Cherry Duet. c.1918

James recognised Rosina's talent and encouraged her to study in the UK. In 1900, she moved to Birmingham and studied for three years at the Midland Institute's School of Music. She came back to New Zealand in 1904 and toured here and in Australia.

Rosina returned to the UK in 1912 and continued to perform until the 1930s. She was the principal dramatic soprano of the Beecham Opera Company, considered one of the greatest Isolde's in Wagner's Tristan and was highly acclaimed for her title role of Madame Butterfly. Buckman recorded extensively and taught privately and at the Royal Academy of Music.

Rosina returned to New Zealand in 1922 to perform in a series of concerts with her husband tenor Emile Maurice d'Oisly. She died in London in 1948.
Images of Singer Rosina Buckman. Morrison, Rosina :Photographs of Rosina Buckman Maurice D'Oisly. Ref: PAColl-3109-2. Alexander Turnbull Library, Wellington, New Zealand.