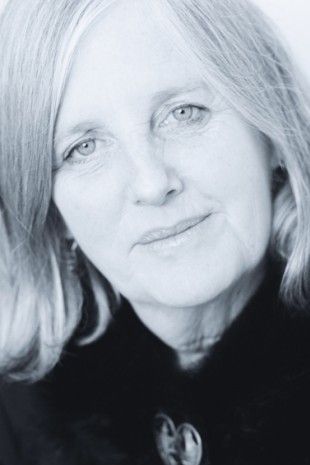 "I write because it makes me happy. And because I can. My paternal great grandmother was illiterate – she signed documents with a cross. I was the first generation in my family to attend a university. Thank you, 1935 Labour government. Thank you, Welfare State."
FIONA FARRELL
Born in Oamaru and educated at the Universities of Otago and Toronto, author Fiona Farrell lived in Palmerston North from 1976 to 1991. A drama lecturer at the then Palmerston North Teachers College during much of her time in the city, it was in Palmerston North that Fiona began to write seriously and discover what would become her career.

Now one of New Zealand's leading writers publishing in a variety of genres, Fiona first wrote drama, responding to a dearth of New Zealand plays. Her work was rewarded with a Denis Glover Award for drama in 1982. Her play Chook Chook is one of Playmarket New Zealand's most frequently requested scripts. Another play, Passengers, with music by fellow Creative Giant Helen Caskie, was produced in Palmerston North to commemorate Suffrage Year.

In 1982 she won a Bruce Mason Award for poetry and a Manawatu Evening Standard short story competition. In 1984, she won a BNZ Katherine Mansfield Short Story Award and in 1987, an American Express Short Story Award. Her short stories have been included in numerous New Zealand and international anthologies and she has also published two collections of short stories.

By 1990 she was a full time writer and has since produced six novels. Her first, The Skinny Louie Book, won the New Zealand Book Award for fiction. The Hopeful Traveller, Book Book and Limestone were finalists in the New Zealand Montana Book Awards and along with Mr Allbones' Ferrets were nominated for the International IMPAC Dublin Literary Award.

Following the Canterbury earthquakes, she wrote two non-fiction books - The Quake Year, a collection of interviews with photographs by Juliet Nicholas, and The Broken Book, a collection of essays and poems. The Broken Book was a finalist for the 2012 New Zealand Post Non-fiction Award and for the 2012 Nielsen New Zealand Booksellers Choice Award.

The Popup Book of Invasions is the most recent of Fiona's three books of poetry and was a finalist for the 2008 New Zealand Montana Book Award for Poetry. Her poetry has been included in many anthologies including The Oxford Book of New Zealand Poetry and the British best-seller, Being Alive. Several poems have been recorded, including Charlotte O'Neil's Song which was recorded by the BBC for use as a set text in the UK's GCSE examintion. That poem was also set to music for 2012's Wild Iron: New Zealand Poetry Adapted to Song. She has been a frequent collaborator with composer Lyell Cresswell, most recently working on lyrics for performance by the NZSO in 2013.
Fiona was writer-in-residence at Canterbury University in 1992 and the Katherine Mansfield Memorial Fellow in Menton, France, in 1995. She was the inaugural Rathcoola Fellow in Donoughmore, Ireland in 2006 and, in 2011, was the Robert Burns Fellow at the University of Otago.
In 2007 she was the recipient of the Prime Minister's Award for Literary Achievement for Services to New Zealand Literature. In the 2012 Queen's Birthday and Diamond Jubilee Honours List Fiona was made an Officer of the New Zealand Order of Merit for services to literature.
Fiona Farrell, above, talks about her 'naughty reading secrets' on Books Left on Buses at the Auckland Writers & Readers Festival 2007. Click on the image to view You Tube clip


In 2013 Fiona was awarded Creative New Zealand's Michael King Writer's Fellowship. The $100,000 award is to research and write two fiction and non-fiction books.
Both books will be titled The Villa at the Edge of the Empire, and will be shaped by her experiences of the recent Christchurch earthquakes. Since the quakes struck, Farrell has felt "like a photographer who, after living quietly in Armentieres taking portraits of local dignitaries or photographing wild flowers, suddenly finds that they are caught up in the midst of the action. It's frequently deeply disturbing, but there is a compulsion to record".

"Oamaru bore me, Dunedin and Toronto reared me, but it was Palmy that made me a writer. It was small but it had everything I needed: a great library, bookshops, a university, it was flat and I could get about easily rather than wasting precious hours crisscrossing a large city. And I didn't feel intimidated. I think it would be hard to start as a writer in London or Paris or New York: so many colossal figures, living and dead, on all sides. Such a fierce competitive literary world to have to negotiate and I doubt I'd have had the necessary courage. But Palmy simply said, 'Have a go! If you want to try writing a play, go right ahead. You can direct it yourself: here's the little theatre, here's the stage. What have you got to lose? And if you want to write a short story, here's the Evening Standard, here's a competition, why not have a go?" And what do you know? I did write that story and I won and it was in the paper. So Palmy is where my daughters grew up, where I made my dearest friends, and where I found my life."