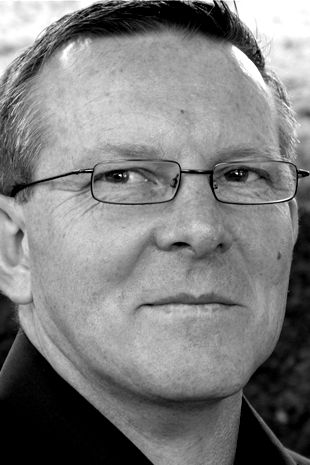 "I went to Queen Elizabeth College, and studied art under Sue Artner who made art feel like it was the most natural thing for any human being to do. She instilled in me a deep sense of confidence. Obviously things have changed in 40 years, but that experience stimulated me as a 14-year-old and holds a very influential place in my life and continues to give me courage in developing my work."
BRENT HARRIS
Born in Palmerston North in 1956, painter and printmaker Brent Harris spent three years in Auckland before immigrating to Australia in 1981. He is considered one of Australia's leading contemporary artists.
Brent typically works in series, with multiple pieces creating a unified work. He has been credited with creating works of striking graphic quality. His work has been described as emotionally intense, brooding, haunting, unnerving, stringently executed and weirdly abstract, tackling the personal via the abstract. His art has undergone various transformations since he began exhibiting in 1988 and has been, at different times, influenced by artists including Colin McCahon, Barnett Newman, Ellsworth Kelly, Ad Reinhardt and Nicolas Poussin.
Brent received a Bachelor of Fine Art from Melbourne's Victorian College of the Arts in 1984 and has had residencies at the Singapore Tyler Print Institute, Japan's Nagasawa Art Park, the Cité Internationale des Arts, Paris and at the Gertrude Street Artists' Spaces, Melbourne. He has solo exhibitions throughout Australia and has collaborated in group exhibitions in Australia, London, New Caledonia, Japan and New Zealand.
"My strongest memories of Palmerston North are from my childhood, and are of the river - I'm not sure that Palmerston North sees itself as a river city. I loved the Manawatu River. It is a strong river, and I loved it most when it threatened to flood the surrounding land and was wild with floating tree trunks. To me, the Manawatu River is like Palmerston North's main artery, a lot of energy, and it was always there, just to the side, caressing the city."