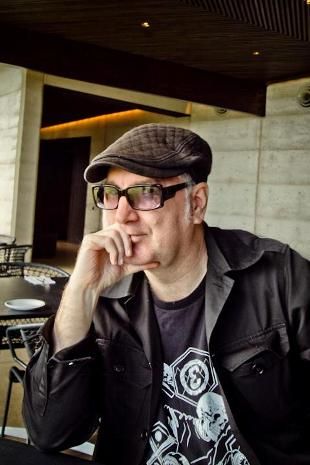 "I juggle commercial work in digital moving imagery with photographic and experimental digital imagery driven by my own need to express something at an emotional/visceral non-intellectual level."
CHRISTIAN HOGUE
A pioneer in the field of digital art and computer graphics since the mid-1980s, Christian Hogue moved to Palmerston North when he was 10. Following school, he attended Massey University where he explored the esoteric sciences and graduated with an honours degree in computer science and a keen interest in computer graphics and film.
Within a year of joining The Moving Picture Company in London in 1984, he became head of the company's 3D department. Since then, he has been involved in ground-breaking work on Terminator 2, Judge Dredd, Lost in Space, Little Buddha, Super Mario Brothers, Hackers and the Bond films Golden Eye, Tomorrow Never Dies and Die another Day. He has worked on hi-end spots for advertisers such as Volvo and has won awards for US work for Mrs. Butterworth and other character-based visual effects work.
Much of Christian's work was done in his studio, Lost in Space, which he founded in 1990. Lost in Space pioneered 3D methodologies in the 1990s and motion graphics in the 2000s. During this period, Christian was active in creating seminal digital art that has been shown in the UK, Japan and New Zealand. He has worked creatively in the film, television and music industries and is highly regarded as an original and creative thinker in the area of digital art and animation. His studio produced ground-breaking photorealistic character animation with the famous animated Lyons Tea Pot spot.
Lost in Space is especially recognised as a pioneer in the use of wire-framing techniques. The Coldplay album cover Rush of Blood to the Head is an example of wireframe art work done there. Another example of his work was a spread for US glossy fashion magazine BIG, which used supermodel-of-the-moment Gisele Bundchen as a subject, entailed laser scans of the model and creating the final wireframe images – resulting in a more abstract and innovative end-product than traditional fashion and beauty photo shoots.
Christian is now based in Bangkok which he describes as a handy, warm, friendly place to step either to London or Palmy. The relaxed lifestyle allows him to spend more time on creative projects. He returns to New Zealand regularly and is a contributor to Manawatu's SwampThing digital magazine.
"Of course being a Kiwi I would make the annual pilgrimage to the mecca of Palmy to visit my parents just for a week or two every Xmas or in late autumn for my birthday. Over the years my love of photography reasserted itself and with it my renewed love of my home country. With nothing to do but go out shooting around the Manawatu in recent years as my mother became increasingly housebound, I have developed this time lapse view of New Zealand's slow change over the years. Rural and urban desolation of the 80's and 90s gave way to modern relative prosperity of the noughties."