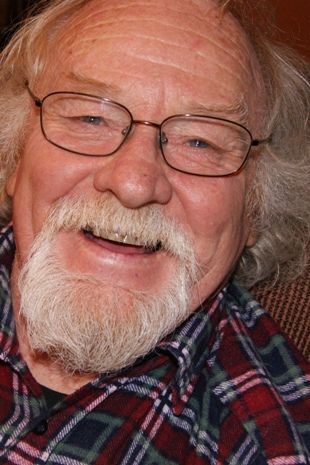 "After a fairly successful television career I took up the writing of novels in perverse reaction to being told not to. It's a terrible profession financially and one I wouldn't change for a winning Lotto ticket. I write about incidents that pique my interest – why did Tasman never come ashore; what would have happened if near-contempories Napoleon and Te Rauparaha had met in combat; what happens when two pituitary glands fall in love? Etc."
PETER HAWES
Playwright, novelist, actor, scriptwriter and journalist Peter Hawes published his first book - La Hoguera - in Spanish in 1974. Working as a teacher of English in Barcelona, Peter wrote the book, which was about the Spanish inquisition, and it became a Spanish bestseller. On returning home he wrote and published his first novel in English, Tasman's Lay, described as an inventive and irreverent account of Abel Tasman's discovery of New Zealand. In 2000, It was followed by Playing Waterloo. The Dream of Nikau Jam was released and his most recent book, Royce Royce, the People's Choice: The Story of a Young Man and the Sea, was published in 2002.
Under the pseudonym WP Hearst, Peter published Inca Girls Aren't Easy: Thirteen stories, twelve of which are true in 1999.
Along the way, Peter has also published books for children and has written numerous plays. His first play was Alf's General Theory of Relativity in 1980, followed by Ptolemy's Dip in 1982 and Armageddon Revisited in 1983, Goldie: A Good Joke, came in 1987, 1946 The Boat Train in 1991 and Aunt Daisy in 1989.
Peter's television scriptwriting credits include A Week of It, Fraggle Rock, Yours for the Asking and Against the Law. He is presently writing a sequel to his most popular novel to be called Joyce Joyce the People's Choice. He writes a weekly column for the Manawatu Evening Standard.
As an actor, Peter appeared in the 1989 television series Night of the Red Hunter and, in 2011 won Best Performance in a Short Film at the Aotearoa Film and Television Awards for his role in BIRD. He has appeared in several dozen plays at Centrepoint and next appears there in Shop till you Drop.
Born in Westport, Peter settled in Palmerston North.
"Frankly I came here because my now-wife told me to; she had a good job at Massey - what I do I can do anywhere. However I am often inspired in my column by the constant sneers PN attracts – "boring" etc. (Have the critics ever been to Manurewa, Howick?) I wait for my anger to cool then I replace it with often vicious satire. Anyone who says writers write from love (as Salman Rushdie does) is mad."