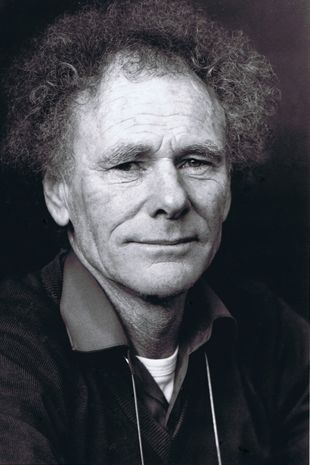 "An artist's obligation is to create a graphic response to the essential truths of that artist's intellectual and spiritual chemistry. Accepting that most 'ART' is illustration and craft, Masters are distinguished by the realisation of the gift as having the presence of the metaphysical in their thinking and works, and it is that which others sense and seek to know. Art is in the heart."
PAT HANLY
Pat Hanly, considered one of New Zealand's finest and most important artists, was born and raised in Palmerston North. Through his art, Pat is credited with creating a new way of looking at New Zealand, its land and people.


Stewart Main talks to artist Pat Hanly about his life as painter and activist.

According to Ron Sang, publisher of PAT HANLY (2012), "His art heralded new ways of thinking about this country - as a nation that belonged to the young and the adventurous, to the dreamers and to those who could see the vital place the island nation could have within Polynesia and the broader Pacific."

Though Pat showed early proficiency in art, his parents hoped that he would learn a 'useful' skill and in 1948, he began a four year hairdressing apprenticeship. He also joined the Palmerston North Sketch Club and attended night classes taught by landscape artist Allan Leary at Palmerston North Technical College. He took his art school preliminary examinations in 1951 and enrolled in the Ilam Canterbury College School of Art in 1952; in 1953, he won the Turner Prize for Landscape.

When sitting his art school preliminary exams, he met photographer Gillian Taverner, whom he would later marry. In 1957 Pat and Gil headed to London where they attended the Chelsea School of Art and where Pat worked as a stage manager at the Gargoyle Club. In 1960, he received a grant from the Italian government to paint in Italy and during that time, he worked on the Showgirl series, inspired by his time at the Gargoyle Club. The Showgirl exhibition, in 1961 London, was his first solo exhibition. Through a later Dutch government grant, he painted the Massacre of the Innocents series.

The Hanlys returned to New Zealand in 1962 and, in addition to creating his own work, Pat accepted a part time lecturing position at the Auckland University School of Architecture. In 1966, he won the Manawatu Prize for Contemporary Art.

Some of Pat's most recognised public commissions include those at the Auckland Airport, University of Auckland School of Architecture and Auckland's Aotea Centre's Convention Centre. Pat exhibited throughout New Zealand and internationally and represented New Zealand at the 1963 and 1966 Paris Biennales. A retrospective of his work toured New Zealand in 1974.
He frequently painted in series, including Figures in Light, Fire and Vacation, The Fire this Time, Pure Painting and Condition, Thunderland, Fire, Innocence, Pacific Icons, Energy, Inside the Garden, Torso and Golden Age.

While much of Pat's work was joyful and playful, it also reflected his social conscience - he was, among other things, an ardent anti-nuclear activist – and included his observations of his friends, family and politics.
In 2009, author Trish Gribben published Blast: Pat Hanly, The Painter and his Protests to educate children about Pat Hanly and New Zealand's nuclear-free stance. A grant from the Peace and Disarmament Education Trust (PADET) made it possible to distribute a copy of the book to every New Zealand primary and intermediate school library.
Pat Hanly died in Auckland in 2004.
"The thing about the Antipodes, the clean space, clarity and uncomplicated power of the land, the naivety and dumb solidarity of the people. I must work out there, away from the shit and the great works…living and working here for five years has shown this and much more."