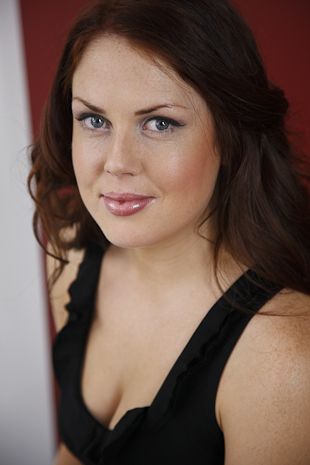 "The reason I sing is still developing. I think we grow and change as artists, and the more I perform, the more of a kick I get out of moving people. Definitely for me the most important thing is to engage with the character and produce vocal colours which compliment it, in a way which moves the audience, which makes them leave the theatre feeling uplifted and inspired about life, love, music, whatever it may be."
ANNA LEESE
Soprano Anna Leese made her debut in 2005 at age 24 at the Royal Opera House Covent Garden (ROH) as Tamiri in Mozart's Il Re Pastore, while she was still in her final year of opera college in London. The ROH then had her understudy the part of Musetta in Giacomo Puccini's La bohème. She returned to sing the role, among several others roles, in her own right in 2008 on the main stage. Regarded as a rising star on the international opera stage, Anna has performed in numerous operatic roles throughout Europe, Canada, China and New Zealand. She has sung with performance greats including Andrea Bocelli, Jose Carreras and Dame Kiri te Kanawa.
Anna Leese in Cardiff, 2011

Anna grew up in Woodville and moved to Palmerston North to attend Palmerston North Girls High School, where she was music captain in her 7th form. In 2010, she was honoured as a New Zealand Arts Foundation New Generation Artist and was the first artist-in- residence at the New Zealand Singing School in Napier.
In 2011, Anna represented New Zealand in the BBC Cardiff Singer of the World competition. Among her awards are the 2001 Dame Sister Mary Leo Scholarship, the 2002 Mobil Song Quest, the 2002 Lockwood Aria scholarship and the 2003 McDonalds Aria Scholarship in Sydney. Her London awards include the Richard Tauber prize, the The Queen Elizabeth The Queen Mother Rosebowl from the Royal College of Music, the singer's prize of the Royal Overseas League Competition, the Maggie Teyte and Miriam Licette awards.
Anna completed a MusB degree with First Class Honours at the University of Otago in 2002, graduated from the RCM Benjamin Britten Opera course in London in 2007 under tenor Ryland Davies and currently studies privately with Maestro Vincenzo Manno in Milan. Based in Tuscany, Italy, Anna travels constantly, appearing in concerts and festivals throughout Europe and the Pacific. She sings the soprano lead in operas internationally and records regularly.
"Palmerston North loves talent, and some of the country's biggest exports come from Palmy. I was given every opportunity to shine growing up there and I remember it as a really supportive and positive environment."