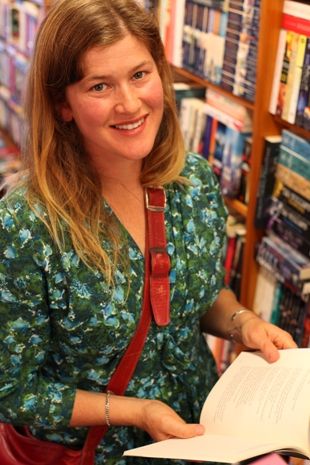 "I'm a lover of narrative, always looking for patterns and story threads as I move about in the world. I'll use a number of mediums to get my story out – the written word, comics, graphic design. I have a compulsion to render the stuff of life on the page."
SARAH LAING
Fiction writer Sarah Laing is the author of the novel Dead People's Music (2009) and Coming up Roses (2007), a collection of her short stories. Her third book The Fall of Light was published in 2013. An accomplished graphic designer, she is the illustrator of Paula Green's children's poetry book Macaroni Moon (2009) and The Kiwi Bach Companion by Kirsty Cameron (2010). She has designed numerous book covers, some of which are award-winning.


Illustrations by Sarah Laing for Te Papa Press and Whitereia Creative Writing and Publishing Programme project, The Curoseum.

In 2006, Sarah won the Sunday Star Times Short Story Competition for her story The Wrong Shoe. She was the Michael King Writers' Centre Writer in Residence in 2008 and shared the 2010 Buddle Findlay Sargeson Fellowship with fellow writer Sonja Yelich. In 2012 she was invited to China along with Eleanor Catton to appear at the M Literary festivals in Beijing and Shanghai. She has been selected as the 2013 University of Auckland and Michael King Writers' Centre writer in residence, where she will write a graphic novel about Katherine Mansfield.

In addition to being included in literary journals Sport and Takahe, her short stories have appeared in Sunday Star Times and the New Zealand Listener. She is a cartoonist for Metro magazine and her short story Newlywed was dramatised for Radio New Zealand National in 2005. Sarah's work has been included in numerous collections, including Pod in Creative Juices, (2002), Freezer Burn in the Penguin Book of Contemporary New Zealand Short Stories (2009) and Inside a Pomegranate in Best New Zealand Fiction Vol. 5 (2008). A popular author at festivals, Sarah has appeared at the Auckland Writers and Readers Festival, the New Zealand International Arts Festival and the Christchurch Writers Festival. With fellow Creative Giant Karlo Mila, she appeared at the Going West festival in Titirangi.

From a family who has lived in the Manawatu for six generations, Sarah grew up in Palmerston North and left for Wellington after a year at Massey University. She currently lives in Auckland with her husband and three children and has also lived in Germany and Brooklyn, New York. She returns to Palmerston North regularly as her grandparents and friends still live in the region.
"What I miss about Palmerston North are the open skies. Everywhere else I've lived I've always felt a little hemmed in. Big cities are always shouting about their cultural prowess but I swear I got a broader grounding in Palmy than I am able to give my children in Auckland. My mother hung out with writers, artists and musicians, and took me to see all the shows and music at the Opera House. She drove me to dance, music, gymnastics and drama classes, and I had wonderful English teachers at Palmerston North Girls' High, who taught me how to love literature, and gave me the confidence to become a writer myself."