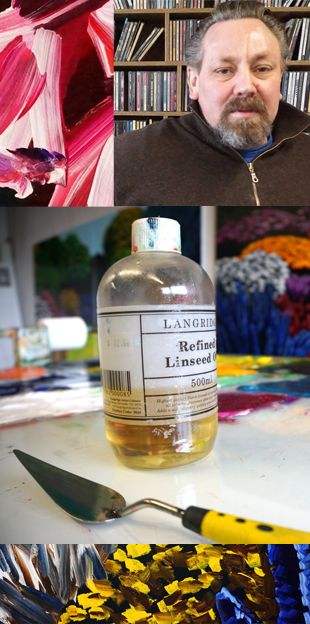 "I'm interested in all the cultural associations we all have with the idea of the garden. They are a central part of the idea of civilisation, the first instance of humans asserting their control over nature."
KARL MAUGHAN
Karl Maughan's hyper-real paintings of gardens and native New Zealand bush are among the most recognisable of contemporary New Zealand art. Karl's practice began with the tradition of painting plein-air (in the outdoors), but wind, light and changeable weather make mighty foes, as did living in a big city like London, where Karl worked for a decade. Karl began working instead from photographs he gathered of gardens in New Zealand, Britain and Europe.


Video diary of a collaborative work between graffiti artist Askew1 and Karl Maughan from 2010.

Karl collages the images into a new composite; he manipulates the collages, adds or changes colour and structure (and removes the less-than-perfect weeds and diseased leaves) to create the design and shape of a new garden. The process and result give interplay of light, colour and structure. He works on a small area of canvas at a time, using an alla prima – wet on wet – technique (rather than building up dry layers). From a distance, Karl's work appears as photographic realism; up close, it is abstract.

Born in Wellington, Karl grew up in Manawatu (for a time, living around the corner from the art gallery) where his parents made second careers as landscape gardeners. He attended Freyberg High School and it was the teachers at Freyberg who encouraged Karl to enroll at Elam School of Fine Arts at Auckland University.

Karl returned to Freyberg in 2009 as part of TVNZ 7's New Artland series. One of 13 artists picked to create incredible new works of art with the help of Kiwi communities, Karl enlisted the help of 20 students and together over five days, they painted a 30 metre wide, 2.2 metre tall mural that wraps around the school's three-classroom art block.

He moved to London in 1995 and in 1997, was a finalist for the John Moore Award – considered one of the two top premier arts awards in Britain. He returned to New Zealand in 2005; in late 2007, a major retrospective and publication on his work was shown at Te Manawa Museum of Art, Science and History.

Karl's first solo exhibition was at Kelburn's Brooker Gallery in 1987. He has since had countless solo and group exhibitions in Europe, the UK, Australia and New Zealand. He has made regular local showings at Palmerston North's Thermostat Gallery (now superseded by The Boardroom) on The Square. He has been featured in both popular and critical press and his work is included in numerous collections around the world, including the Saatchi Collection in London and with the Arts Council of England. Closer to home, his work is in the collections of Te Papa Tongarewa Museum of New Zealand, Massey University and Te Manawa Art. Maughan's work is also held in numerous private collections in New Zealand, Australia, Asia and the UK.