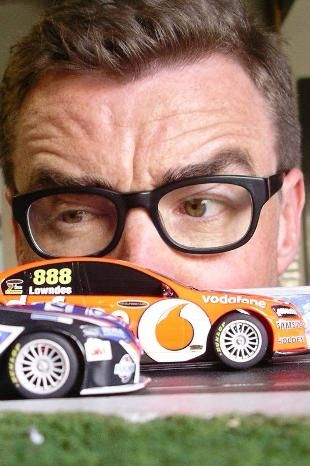 "When I'm painting, I'm most comfortable elbow deep in oil paint slipping my way across a big board. Working on a larger scale lets me get really physical with my work. I barely use brushes as I prefer to use my fingers, elbows and palms to really get stuck in. My paintings are a way of venting stress. My best work is always a personal story and people seem to connect with the honesty. As a director I follow the same principles. I like rock music, drums and volume. Most of my music clip work is performance based. My strength is capturing a band's spirit on film and extracting every ounce of energy from them. I shake cameras and like to torture the band any chance I get."
GREG PAGE
For most of the Creative Giants on this site, knowing into which category the artist fits is easy. Not so for Palmerston North born and raised Greg Page.
As a film director, he's worked at Flying Fish for 15 years, making television commercials and music videos. So far, he's also directed more than 80 music videos (it's on his bucket list to do 100) and it would be fair to say he's not a typical director. In Exit To The City by The D4, for example, he put the band in the back of a careering van; Verona by Elemeno P was filmed in an ice cream freezer (the drums froze and their skins cracked). A drummer himself, Greg has played in three bands – including metal band World War Four, Rumpus Rooms and POP squad.

In the 1990s, Greg created a 4 minute animation called DECAFF, above, a violent claymation character that received wide acclaim including a trip to the Zagreb animation festival in Croatia. He was commissioned to make a series of claymation commercials for NZ On Air and, in 1996, was invited by the New Zealand Film Commission to create a three-minute short commemorating 100 years of New Zealand cinema. In 1997, Greg produced a live action short, Sarah's Washing. The work was funded by the New Zealand Film Commission and won a Merit Award at the Chicago Film Festival. His first feature film, The Locals, was a supernatural horror and produced in 2004. He's currently working on a raft of new scripts.
In 2009 Greg won the 2010 Film Commission Writer Award. In 2011, Greg starred on TV3's series Bigger, Better, Faster Stronger alongside James Coleman. The series showcased Kiwi ingenuity combined with science.
Greg is also a successful painter. He has exhibited throughout New Zealand and his works hang not only in collections such as The Wallace Arts Trust but in the living rooms of comediennes Dawn French and Jennifer Saunders.
"I enjoy telling people I'm from Palmy. Some say: 'But you're from Hamilton aren't you?' I did my tertiary years in Hamilton and had my first film success while living there so the Waikato claimed me. However, I proudly champion Palmerston North as home. I also like correcting those who get Palmy and New Plymouth confused. It's fun reminding folk of the geography of New Zealand.
"Coming home to Palmerston North, I always feel like a teenager. When I'm staying with my family in Awapuni I slip back into line surrounded by the family tree and away from the hustle and bustle of my career. I like Palmy.
"I went to Milson Primary, then Ross Intermediate. I was at Freyberg High School and did a year rocking it as a cook and waiter at the Fishermans Table on The Square before leaving to find my career in film."