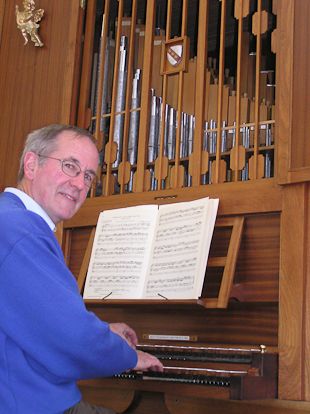 "My work is musicking with all ages."
ROY TANKERSLEY
Now a freelance musician, Roy Tankersley built a career as a music educator at secondary and tertiary levels and as a choir director, organist and harpsichordist.
Roy's enthusiasm for the organ and passion for church music has inspired generations. As a composer, Roy's works include choral, instrumental and musical theatre; his work has been widely used in schools and churches throughout New Zealand.

Roy was attracted to the diversity, range and power of the organ from an early age. He completed an apprenticeship in Organ Building with John A Lee of Feilding before earning his B Mus (hons) degree from Victoria University and his post-graduate studies at Guildhall School of Music and Drama in London.
Roy promotes the organ and its music in his role as President of the New Zealand Organ Preservation Trust and through programmes in schools using the WOOFYT (Wooden One Octave of Organ Pipes for Young Technologists). His collection of musical instruments includes a Baroque-styled pipe organ built over four years for his music studio.

In 2010, Roy was made a Member New Zealand Order of Merit in the New Year Honours.

"Palmerston North is a great central hub of creativity in all the arts."