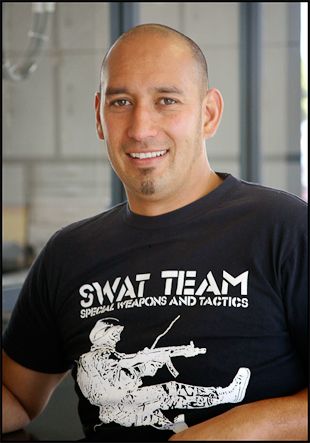 "In this industry, it's important to have talent… but it's also important to have a clear goal - an aspiration… and understand what is required to realise that."
KELCY TARATOA
Painter Kelcy Taratoa describes his style as "graphic, hard edged, anamorphic, and hyper-real." The large-size, bold colours, frequent references to comic books, notions of the hero, television serials and film identify the work of Kelcy, who is described as one of New Zealand's most exciting young artists and one to watch.


Crisis & Isolation by Kelcy Taratoa at The Tauranga Art Gallery, November 2011.

He has exhibited throughout New Zealand and his works are included in public and private collections in New Zealand and overseas. One of just 108 global artists invited to participate in the 2011 exhibition Roundabout in Tel Aviv, it was the large scale, futuristic nature of Kelcy's paintings that attracted the curators.
Kelcy's (Ngai Te Rangi and Ngati Raukawa) childhood and youth experience was split between a small provincial town, Levin, and a popular western costal city, New Plymouth, on the North Island of New Zealand. He has described himself as an "urban Maori: detribalised and culturally displaced." Kelcy extracts and manipulates ready-made imagery creating technicolor, hyper-exposed alternate graphic realities. His paintings have a strong futuristic, science-fiction appearance and quality about them. From Kelcy's paintings arise multiple layers of implications that simultaneously resonate in the present, yet suggest possible futures more than actual realities.
Kelcy moved to Palmerston North in 1990 where he studied at Massey University; in 2005, he completed Master of Maori Visual Arts and continues to live in the city where he is a full-time artist.
"For its size and location, Palmy packs a big punch with its creative community. It hosts two nationally and internationally recognised visual imaging programmes through notoriety of academic practitioners and achievements of graduates. Many creatives and intellectuals have contributed over the years to a happy creative bubble. Continuing contributions produce a diverse and much needed creative talent pool to feed the global machine. Te Manawa Museum of Art, Science and History and commercial galleries invest in local talent and support secondary and tertiary students through graduate year exhibitions. The cities Public Sculpture Trust generates controversy and healthy debate through its public works programme, which I support."