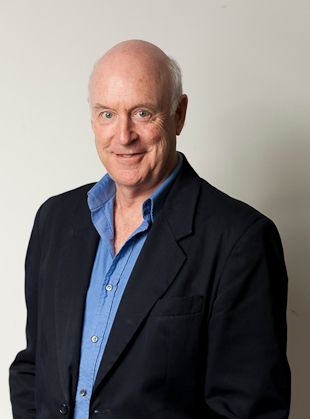 "Humour is a confidence trick…There's something about coming from a small place where you can get some confidence, even if it's for being the first kid on your side of the street to ride a bike with no hands on a Tuesday."
JOHN CLARKE
Born and raised in Palmerston North, satirist John Clarke has been described as the man who invented humour in New Zealand. In the 1970s, John brought Fred Dagg, the black-singletted, gumboot- wearing farmer to life.

Fred Dagg on Country Calendar, 1974.

John Clarke as Fred Dagg appeared on television, radio, stage, film, recordings and in print. There was the cinema short Dagg Day Afternoon, a nationwide tour in 1976, and hit singles including The Gumboot Song and We Don't Know How Lucky We Are. Fred Dagg's Greatest Hits (1975) is one of New Zealand's biggest selling records of all time. Dagg was the subject of a special spoof episode of Country Calendar in 1974 and his voice featured on episodes of the animated hit bro'Town in 2006.
The author of 25 books, John was the voice of Wal Footrot in the 1986 feature-length animated film, Footrot Flats: The Dog's Tale based on the comic strips of Murray Ball. Co-written by Tom Scott, it was very much a Manawatu project.
John was named New Zealand Entertainer of the Year in 1976. In 1977, he moved to Australia and has appeared in several films including Never Say Die, Death in Brunswick, Crackerjack and Blood Oath. As a screenwriter, he was nominated for an AFI award for co-writing the film Lonely Hearts; in 2001, Billy Connolly starred in a film based on his screenplay The Man Who Sued God. He wrote the screenplay adaptation of Shane Maloney's novel, Stiff which he co-produced and directed. He wrote and appeared in the screenplay adaptation of Shane Maloney's novel The Brush Off, which he co-produced.
John has been involved in many Australian television shows including The Gillies Report and Anzacs. He co-wrote and starred in The Games, a television mockumentary series that ran for two seasons (1998 and 2000) about the Sydney Organising Committee for the Olympic Games and won an AFI award. First on A Current Affair and then on The 7.30 Report, John has written and performed satirical weekly interviews with Bryan Dawe for 25 years.
"My friend Basil Bridge and I used to tell each other stories from our lives and make each other laugh. This was my first experience of drawing on my own life and observations for material. I first went on stage at the Manawatu Repertory, as a kid in a production of A Christmas Carol. My mother was an actor (and writer) and was appearing in the play; when a boy dropped out because he broke his arm in a rugby match, I was blackmailed into taking the boy's place. I still have my class photos from College Street School and when I look at them I still think that's my group. Those are the people I set out with and somewhere in my head they're still my friends."