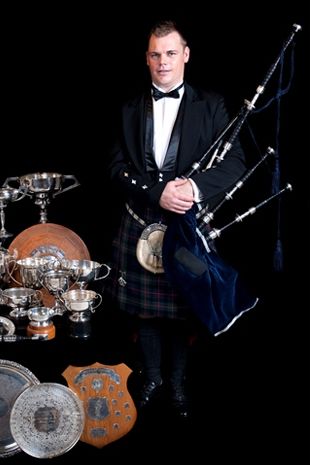 "I have been very lucky to compete all over the world. The highlight for me so far would be all those incredible places I have visited, the most amazing people I have met and experiences we have shared. These are absolutely priceless and memories I will never forget. Kiwis are renowned in the piping world. I want to continue that legacy for New Zealand piping and make my mark on the world stage."
STUART EASTON
Pipe Sergeant of the seven times New Zealand Champion Manawatu Scottish Pipe Band, Stuart Easton began piping at the age of 13. As a soloist piper, Stuart Easton has won the Australasian Invitational Piping final multiple times and has won five of the six major prizes contested by New Zealand competing pipers: New Zealand Gold Medal, New Zealand Silver Chanter, New Zealand Former Winners Clasp, The New Zealand Invitational Targe & Claidhmor and the Overall New Zealand Solo Piping Championships. A winner of the Commun Na Piobaireachd, the Commun Na Piobaireachd Gold Clasp is his next goal and the final of the six major New Zealand prizes.

Stuart Easton, Oban 2007, plays the jig
James MacLellan's Favourite

Stuart Easton became the 2013 New Zealand Open Solo Champion, having won the Strathspey and Reel, Piobaireachd and the Hornpipe and Jig events at the Dunedin competitions.

In 2011, Stuart won at every major solo piping contest in New Zealand and Australia and, travelling to Scotland and France, won at Lorient, Glenisla, Nairn, Cowal, Birnham and Inverness. He has been a regular competitor in Scotland for the last 10 years, and plans to continue to travel and compete in the major competitions held annually. Stuart, who is Director of the New Zealand National Youth Pipe Band, teaches, performs recitals and runs workshops throughout the Southern Hemisphere. He has represented New Zealand at the Interceltique festival in Lorient, France six times since 2005 and won the Piobaireachd event in 2010.
Born and raised in Manawatu, Stuart Easton lives in Palmerston North. In 1997, Stuart won the William Boyle Scholarship and studied at the National Piping Centre in Glasgow where he achieved the Institute of Piping Senior Certificate.

"Palmerston North is a fantastic hub for musicians, in particular for musicians in the Pipe Bands. We are one of the strongest Piping regions in the country and this is something we should be very proud of."