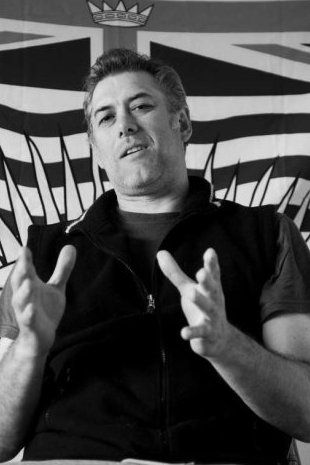 "Play, play, play. I like to play. Make plays. Play with words. Play sport. Play with other playful people. Play in TV Land, Film Land, Whateverland. I love how Raymond Carver said he only wrote short stories 'cause that's all he could do while his kids ate...and now I write haiku with my sons. They remind me what joy it is to play every day."
DAVID GEARY
Writer David Geary (Taranaki / Ngati Pakeha) was born in Feilding maternity home in the days when you could do the full circle of life and end up next door at the old folks' home. He grew up in Rangiwahia and would like to be buried there with the epitaph – "He played about these hills, and does so still."

David Geary reading Once Upon a Deadline.

David was a boarder at Palmerston North Boys High, an experience that helped inspire his critically acclaimed play Lovelock's Dream Run. He started a law degree at Victoria University, but finished an English degree including papers in drama and creative writing with Bill Manhire. Afraid of being a lonely artist in the world, he craved more institutions and then studied acting at Toi Whakaari New Zealand Drama School.
David returned to Palmerston North to act at Centrepoint Theatre under the reign of fellow Creative Giant Alison Quigan, and credits her and Centrepoint with nurturing his theatrical talents. It was Alison who helped premiere his hit plays Pack of Girls, The Learner´s Stand and The Farm. David went on to create and collaborate on over twenty-five theatrical productions, winning the 1991 Bruce Mason Playwrights' Award and 1994 Adam Foundation Playwrights' Award.
As a screen writer, David has worked on television series' including Shortland St, Jacksons Wharf, Hard Out and Mercy Peak. He wrote, co-produced and co-directed The Smell of Money a one-hour television documentary about a year in the life of four Feilding freezing workers. He has written and directed short films, and recently story and script edited a drama for Aboriginal Peoples Television Network in Canada.
As a fiction writer, David's collection of inter-linked short stories based around Wellington, A Man of the People, was published by VUP in 2003. He returned to his roots with his subsequent short story, Gary Manawatu (1964–2008):Death of a Fence-Post-Modernist, which was selected for Six Pack Three, and then anthologised in the Penguin Book of Contemporary New Zealand Short Stories in 2009. Several of David's early plays were set in the Manawatu high country that he grew up in, but David considers this later short story to best sum up his life-long love affair with Palmie and the Manawatu.

David continued to act, but is probably most well known as the bank manager/farmer from the ASB bank Goldstein commercials and the immortal lines - "Herd of cows/Herd of chickens." His last acting job was with fellow Creative Giant Simon Ferry on Tangiwai – A Love Story, where they were last seen driving the train toward the fateful bridge.
David lived in Canada from 2002 to 2008, becoming a citizen there, and returned to NZ to become the 2008 Victoria University Creative New Zealand writer-in-residence. In 2009 he taught the Scriptwriting Course at Whitireia in Porirua, then returned in 2010 to Victoria to be the Senior Lecturer in Scriptwriting at the International Institute of Modern Letters.
He moved back to Canada in 2011, where he continues to write plays, work in television, lead writing workshops, dramaturg, and help raise two boys. He is also currently working on his first novel Henare VIII – A Gory Story for Boys.
Photographs of David by Robert Cross.

"Fair cop, I'm guilty of making jokes about Palmie, saying its proud motto was – 'It's very central', ie: a good place to start if you want to go somewhere more interesting. But, seriously, that was an affectionate punch. Truth is Palmie is central to me. Wherever I am, I'll always come back there. And I love that it's the heart of the Manawatu – manawa tu – where the heart stops."