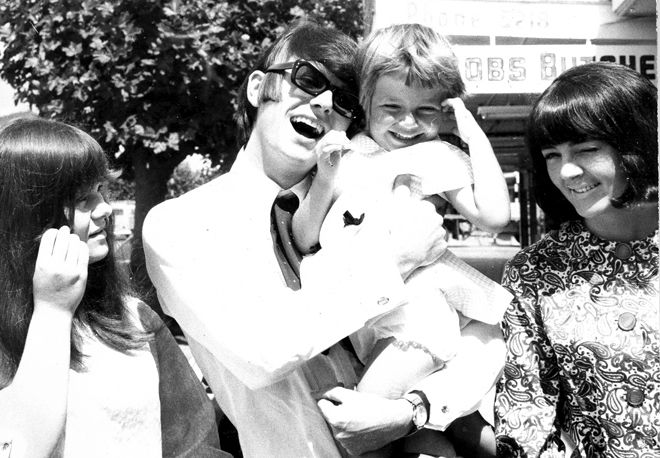 Four-year-old fan, Marcene Trass meets her favourite television star, pop singer Mr Lee Grant in 1968.
Photograph The Levin Chronicle/Kete.net.nz
He has been called New Zealand's own Mr Mod – in the 1960s, Mr Lee Grant was one of New Zealand's most celebrated pop idols.
He was born at the end of WWII in a German Nazi concentration camp near Düsseldorf on the river Rhine. His Polish parents named him Bogdan Charis Kominowski. After his father had been killed, his mother emigrated with him to New Zealand in 1949, where they settled in Palmerston North and lived in Ranfurly Street.
He went to a Marist Brothers school, then to teachers' college and Massey University, all the while playing local gigs with the band The Cyclones. Music, however, was a side show rather than his main goal – he wanted to become a teacher.
This all changed when the late Keith Richardson, a DJ and radio presenter from Hawke's Bay got the young singer a few gigs around the area. He thought "Bogdan Kominowski" was not a name for a pop star, so he came up with "Lee Grant" – "Lee" was chosen after Cliff Richard's dog, and "Grant" after the late brother of Bogdan's manager. The Mr was added to distinguish Bogdan from Auckland theatre actress Miss Lee Grant who was popular at the time.
His first recording was "Doo-Doodle-Do-Doo"/ "As Long As I Have You", which was released in 1965.
Mr Lee Grant - star of C'mon singing Thanks to You
When he was contracted as resident singer on the popular TV series
C'mon
, Bogdan left Palmerston North for Auckland and quickly became a huge success. His new manager, Dianne Cadwallader, styled his clean-faced, fashion-forward image, and his sexy hip-swing earned him the adoration of thousands of teen girls. In the mid-1960s, Mr Lee Grant became a household name.
In 1967, he won the NEBOA (National Entertainment and Ballroom Operators' Association) 'Entertainer of the Year' award, as well as the Loxene Gold Disc Award, a forerunner of today's NZ Music Awards. He had two Top 10 albums, several Top 10 hits, and three number-one records,
'Opportunity'
among them.
Like so many other New Zealand artists, he went to London in 1968, looking for fame and fortune, which came to him in the form of singing and acting engagements. He worked, for example, on the James Bond classic
A View to a Kill
, in which singer Grace Jones famously lifted him over her head and threw him down a flight of stairs, above. He also starred in successful musicals like
Jesus Christ Superstar
and
Elvis the Musical
.
After settling in the UK, he came back to New Zealand in the 1970s, starring in Ken Hill's production of
Phantom of the Opera,
and appearing in a few television shows.
In May 2013, the 68-year-old entertainer married his fiance of 25 years, Joanna Rowley. Quite unusually, it's the first marriage for both of them. When he's not working, he plays tennis, has taken up golf, and loves relaxing in his villa in Portugal. He's also a great rugby fan and follows all the home games and the All Blacks religiously. He says he loves watching the All Blacks "thrash the world" and is pleased to see Manawatu doing well and producing some great players.
A final greeting from Mr Lee Grant: "Say hi to any of my friends who remember me in Palmy!!!! X"
"Once a Palmy boy, always a Palmy boy … I was given the keys to the city. It will always be my home town."