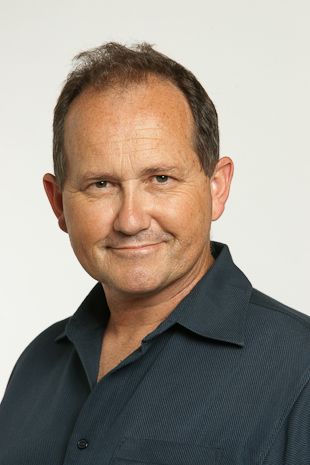 "What inspires my art? To show what it means to be human, I guess; to show both our conspicuous frailties and our towering strengths. I am inspired by an overwhelming need to tell stories and to connect people to each other through that storytelling."
JEFF KINGSFORD-BROWN
Artistic Director of Palmerston North's Centrepoint Theatre since May 2012, Jeff Kingsford-Brown has been working as a theatre professional in New Zealand and overseas for nearly 30 years.
An actor, director and singer, Jeff first worked at Centrepoint in 1984, a fresh faced, wet behind the ears graduate of the Toi Whakaari New Zealand Drama School. Stuart Devenie was the Artistic Director then and Jeff joined the permanent company, performing in such works as Hay Fever, Bullshot Crummond, Jacque Brel Is Alive And Well And Living In Paris, as well as a rare (for those days) local work: Domestic Tragedy – a farce by Jeffery Thomas.
In 1986 Jeff travelled to the UK to see a bit of the world and studied theatre direction at the British Theatre Association, a course he passed with distinction. On returning from his overseas jaunt, he approached Alison Quigan at Centrepoint and found work both acting in and directing shows. Jeff's directorial debut in the Manawatu was with Steel Magnolias, a two-handkerchief weepie with lots of laughs and great women character parts.
In addition to his many directorial roles and performances at Centrepoint, Jeff has performed and directed works at Court, BATS, Downstage, St James, Circa, The Depot and Fortune Theatres. He was in the cast of the New Zealand tours of The Phantom of the Opera, The Rocky Horror Show, The Secret Garden and Nuncrackers.
"I am constantly amazed by the sense of ownership people have towards Centrepoint Theatre. It truly belongs to the city and is cherished by people from all walks of life. It is terrific being a part of that."