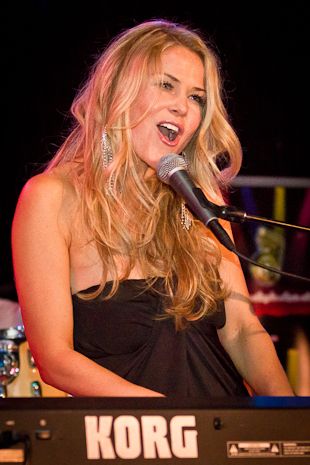 "Life and passion for the people around me inspires me as an artist. Being able to express myself, singing, writing music, in a way that encourages people is always very rewarding and memorable."
ANITA PRIME
Born into a musical family, singer-song writer Anita Prime began learning piano at the age of 5. She picked up the flute, guitar and drums and began performing live at 13 as part of the vocal group Three 'n One. Anita performed at charity and community events in New Zealand and her music was also heard on radio and television.

Anita Prime, La La La, 2010

Anita's career headed toward the international stage in 2010 when she met record producer Ron Thaler at a conference. At the time Thaler stated: "…I listened to her music and I was like 'well you've got an absolutely killer voice' but I don't think the music is at the place that it needs to be". Concerned about production values, Thaler re-recorded, reworked and re-released her album Destiny.

In 2011 Anita began touring internationally in support of Destiny, performing tours through Europe, Israel, and Canada, and joined the 2011 USA All Star Rock Tour alongside Orleans, Robbie Dupree, Joe Lynn Turner (of Deep Purple fame), and Joe Bouchard (Blue Oyster Cult).

In September 2011, Anita's third single Complicated achieved the #3 position as Breakout Artist on the US Billboard Charts in the Hot Dance/Club Party category. Complicated remained on the chart for 11 weeks. In November 2011, Anita won the 2011 LA Music Award for Video of the Year for the video supporting her first international single La La La.
"Palmerston North really has quite a tremendous pool of talented musicians. My earliest childhood memory of writing and recording was with PN's own Matt Soong, my close high-school buddy. His piano playing and producing skills at a very early age is what helped to fuel my dream."